Video Production for Social – One Video, One Million Platforms
Being a marketer in 2018 is no easy job. Being a marketer in 2018 tasked with managing video production for social media is even more difficult. You need to consider every platform every single day. And by the way, there's a new social platform making headlines just about every single day.
One of the biggest challenges in managing a brand's presence is the need to reach your audience where they are. This means evaluating all of the options and creating content specifically for each channel you deem appropriate.
Video production for social doesn't have to be like climbing Everest; there are some tools that can help you create smarter along the way. Even with some tools in your belt, it can still feel like an insurmountable task. We're here to offer some ways to cut this task down to a manageable size.
Record More Often
The most obvious way to address the need for more content is to record more video. In addition to your traditional, campaign-based efforts you should be considering documenting as an effective form of content creation. A trend made popular by vloggers (like Casey Neistat) and media moguls (like Gary Vaynerchuk) alike, documenting provides an influx of content to help feed your machine.
These guys keep the camera rolling all the time. You should do the same thing. It might seem like your day-to-day is boring and mundane. In all likelihood, a lot of it isn't super exciting. That doesn't matter. If you want to do a better job at video production for social, you need more content to work with. That means not being shy about rolling the camera on yourself.
Record your meetings, your brainstorm sessions, your walk to the stores. Record your content on a cell phone. Hire a production company to record your company retreat. Record everything you do. Remember, you don't have to use everything that you film. But having that content as a resource is a huge first step to creating consistency.
Create Smarter, Not Harder
Documenting your day is a great way to get started in collecting content on a regular basis. Your efforts to do a better job leveraging your video content shouldn't stop there. You also need to think about ways to create content more efficiently when you take on larger projects.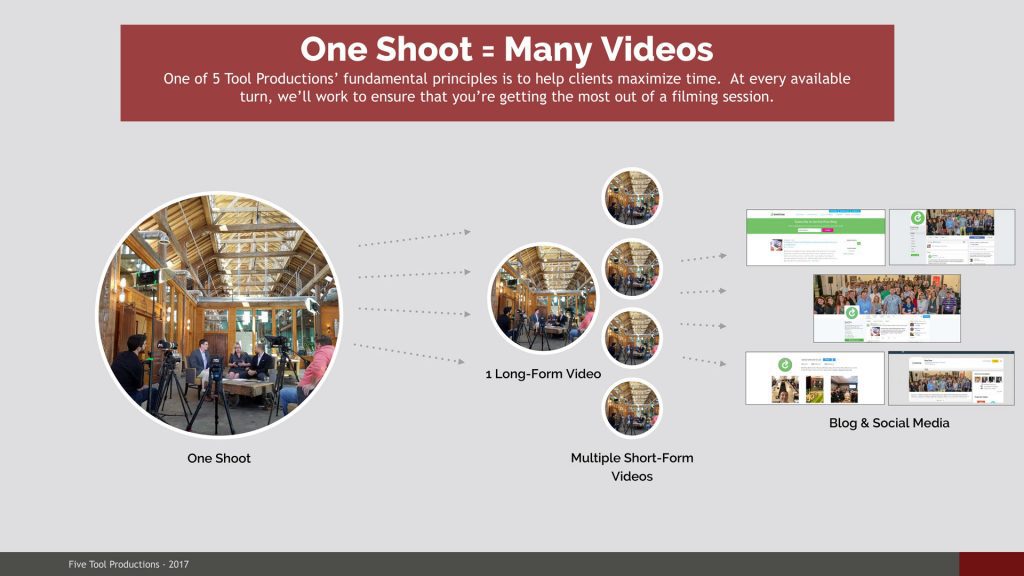 The days of spending a full day shooting that results in a grand total of one video are long gone. When you take on a video project now, you need to be thinking about how your video will work harder for you. That means planning an anchor piece of content, but also planning ahead to create multiple short form videos.
One video shoot can become 30 or more pieces of social content. Advance planning, flexibility on site, and creativity in post all play a role. All of these things are critically important if you want to start doing a better job with video production for social.
Get Familiar with Formats
One of the most challenging aspects of the new era of content marketing is the wide range of formats. Nearly every social network has it's own native video player and content engine. On top of that, each platform also has its own algorithm, which judges different types of content based on their individual merits. In order to take advantage of both of these things, you need to know the rules for each platform.
This is constantly evolving, so the sizing and placements that work today may change tomorrow. Hubspot has a great social media sizes cheat sheet that they update frequently. Bookmark this, and reference it often. You can spend all the time in the world on a video or an image, but if it's the wrong size it won't matter. Additionally, tools like Adobe Spark can help you plug and play your brand into the latest social formats.
Algorithms are less of an exact science. Companies like Facebook and Twitter keep the details of their formulas close to the vest. This makes the practice of optimizing your content a bit of a moving target. There are plenty of resources available for taking advantage of the latest changes to each individual algorithm, but trial and error could be your best friend here.
Every brand, every page, every network, and every audience is different. What works for a major sports league on Facebook may not work for a boutique clothing store. What works for a content marketing company on Twitter may not work for a grocery store. You need to figure out how your audience reacts to content on each channel and respond appropriately.
How to Make Your Video Production for Social Better
The best thing to do is to try lots of different things on your own channels. When a new tool or platform becomes available, be an early adopter and use it right away. Don't be afraid of the limitations that come with options like IGTV. Lean into them and see whether or not your audience likes vertical videos.
Most importantly, you need to be analytical on social media. Listen to data and don't try to put a square peg in a round hole. The customer – in this case your audience – is always right.