Organic Reach on Facebook 6(ish) Months After the End of the World
Mark Zuckerberg rang in 2018 with a fun little announcement that basically blew up the social media marketing world. As Zuck said back then, "you'll see less public content like posts from businesses, brands, and media. And the public content you see more will be held to the same standard — it should encourage meaningful interactions between people." Basically, the end of the world for organic reach.
For obvious reasons, this was pretty scary to people who spend their time trying to get content in front of a wide audience. And for good reason; at last count, Facebook boasts 2.19 Billion Monthly Active Users. Organic reach had already been on the decline for a long time. Marketers who spend their time in this world knew that something like this was on the horizon.
It's been a turbulent 2018 for Facebook since that announcement. Most notably, the data privacy scandal with Cambridge Analytica shook the social giant to its core. In the aftermath, Facebook seemed almost vulnerable for the first time. So what are some of the highlights for Facebook since Zuck's big bombshell?
This is Not a Drill – Organic Reach Keeps Dropping
First and foremost, it's important to address the fact that organic reach did take a significant hit due to these changes. Even before the January announcement, agencies were reporting an average organic reach of around 2% for their pages. Since then, pages that rely heavily on Facebook for web traffic have been pummeled.
One of the poster children for the impact of the death of organic reach was Little Things, a viral publisher that lived and died by Facebook. In the month following the update, LittleThings reported a 75% drop in organic reach. The site — which had built up an audience of over 50 million people on Facebook — abruptly shut down in February.
Little Things is one example in a sea of cautionary tales. Companies who put all (or most) of their eggs in the Facebook basket have been hurt badly by the update.
The Cambridge Analytica scandal and Facebook's reaction to it only meant more bad news for brands. Zuck & Crew are painting a picture of a kinder, gentler, friendlier Facebook. In all likelihood that means even more emphasis on "meaningful interactions between people," and less on brand content.
All of that said, there are some key things you can do keep your organic reach out of the cellar. More than anything, you should be creating content and posts that drive engagement. This means likes and comments on the posts, active conversations in the comments, and shares to personal user's pages. All of this without even mentioning the increased importance of paid ads on Facebook. Hubspot has a great breakdown of some more ideas around maximizing your reach.
News Organizations are Feeling the Pressure Too
One of the questions following Zuck's announcement was how news organizations and publishers would be treated. Would they be lumped in with "Brands" or would the media be treated differently?
One of the most trusted news organizations around, The New York Times, is less than thrilled with the way things have gone. Mark Thompson, CEO of the New York Times Company, called Facebook out for the way it's dealt with news in 2018. Directly from the horse's (the NYT in this case) mouth, "[Thompson] accused Facebook of unintentionally 'supporting the enemies of quality journalism' by using algorithms that can mischaracterize news as partisan political content."
The Times is dealing with a change in policy from Facebook dating back to May, which categorizes news organizations as political publishers. This puts restrictions and advertising, and it's caused some news organizations to pull some of their Facebook ads budget.
It's possible that once the Cambridge Analytica mess is well in the rear-view some of this will revert back. In the mean-time, media companies are finding themselves having at least as much, if not more trouble, than the average digital marketer or brand.
Not Everyone is Floundering
The news is mostly grim. But it's not all bad. There are still brands doing a really good job of driving views and traffic via Facebook. Tubular Insights highlights some of the top brands from a views perspective in their May round up, and there are some lessons to be learned from them.
One of their most interesting case studies focuses on Blunt Community, a viral video page on Facebook that's thriving. One of the main weapons in Blunt Community's arsenal is long-form (at least for Facebook) video content. All of their top posts from May are longer than three minutes, which might be surprising to those who have been told to keep social content as short as possible.
It was surprising to Greg Jarboe of Tubular Insights as well:
Now, I don't know about you, but I find these Facebook videos longer than conventional wisdom would have recommended. And I find their content to be unique, compelling and entertaining or informative. In other words, it's exactly the kind of content that Version 2 of YouTube's Creator Playbook was urging publishers to produce six years ago — 8 months before YouTube started adjusting the ranking of videos in YouTube search to reward engaging videos that keep viewers watching. Back in February 2012, that playbook said, "There are no rules to making great content" and there aren't any "guaranteed 'tricks' to get more views." And that seems to be the case on Facebook today.
Does all of this mean that video on Facebook is turning into more of a socialized version of YouTube? It's funny that you ask…
The Evolution of Facebook Watch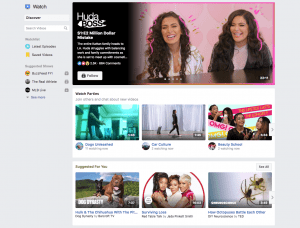 As of June 19, Facebook opened up its Watch platform to all videos from all creators. Digiday tells us that as part of this update, "Any videos from all of the pages that people follow on Facebook will be eligible to appear within Watch, as will videos from pages that people don't follow." This is a departure from the highly curated platform featuring only a selection of shows produced specifically for Watch.
Maybe this will allow your video content to be more discoverable on Facebook. Or maybe it will be another avenue for ads. Or maybe it won't help you at all. Either way, it does seem a lot like another platform we talk about quite often on this blog. The quote that sums it all up, as featured in Digiday:
I understand the motive for them to give people a reason to go [to Watch]. But if everything shows up in Watch and is searchable in Watch, that's YouTube," said an executive at one publisher that has produced Watch shows.
With this update, the "specialness" of Watch is gone. It had been the hub for content that felt more like TV shows. It was one of the areas that ESPN had targeted to bridge the gap and find its lost viewers. Now, it seems more like a generic dumping ground of videos.
Where Do We Go From Here?
So has the world ended as we thought it might? Not quite, but there have been some important lessons to learn along the way. Facebook's shift back to "meaningful interactions" should at minimum be a nudge to content creators to make better stuff. Create things that your audience likes, and act like a human through your brand page. These may seem like basic things to say, but it's easy to get lost in the social media jungle.
Content Marketing can still work as a strategy on Facebook, as long as you approach it genuinely. Know your audience, and effort to create content that your audience wants. If you need help getting started, give us a call. We'd love to help!