The End of Organic Reach on Facebook as We Know It
Organic Reach on Facebook may soon be at 0% thanks to Facebook's latest update.  Here's what you need to know, and how you can prepare.
If you've been paying attention to your social media insights for the last few years, it's no surprise to you that organic reach on Facebook is in a tailspin.  Jay Baer has been covering this in great detail since at least 2014, and the trend has only intensified since then.
Facebook is constantly tweaking its algorithm to change the way content is displayed, and most of these tweaks are not kind to organic reach.  All of those tweaks pale in comparison to the news that came out this week.
The "Explore Feed," which was originally seen as a place for users to find content from people and pages that they don't follow, started to roll out in mid-October.  When the update hit, some users noticed another consequence – all brand posts were moved into the Explore Feed as well.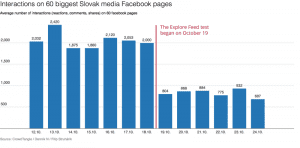 As documented on Medium by tech journalist Filip Struhárik, six countries are in a test group that's essentially separating all of the content published by people from all of the content published by pages.  Struhárik is reporting that this test is having dramatic results on page's reach:  cutting engagement in half and reducing organic reach by two-thirds for the pages he's tested.
For companies that leverage Facebook as part of their marketing strategy (i.e. just about everyone), this should be a huge concern.  There are enough things to worry about as it is, and that's before your content is hidden in a black hole.  Let's try to address some of the questions this is bound to bring up on your marketing team.
Will This Roll Out to Everyone?
If you believe Facebook's statement to recode, the answer is closer to no than to yes.  Here's what they had to say:
"With all of the possible stories in each person's feed, we always work to connect people with the posts they find most meaningful. People have told us they want an easier way to see posts from friends and family, so we are testing two separate feeds, one as a dedicated space with posts from friends and family and another as a dedicated space for posts from Pages. To understand if people like these two different spaces, we will test a few things, such as how people engage with videos and other types of posts. These tests will start in Sri Lanka, Bolivia, Slovakia, Serbia, Guatemala, and Cambodia. We have no current plans to roll this out globally."

– Facebook Statement to recode
Further, in a post on Facebook's blog, Facebook's Head of News Feed said, "There is no current plan to roll this out beyond these test countries or to charge pages on Facebook to pay for all their distribution in News Feed or Explore. Unfortunately, some have mistakenly made that interpretation — but that was not our intention."
Want to be clear, no plans to launch this test globally or to ask publishers to pay for all distribution. Read more: https://t.co/yEA4F9O4RA

— Adam Mosseri (@mosseri) October 23, 2017
These quotes are encouraging, at least in the short term.  But having "no current plans" to roll this out to everyone is not the same as "we will not ever take page content out of the main feed."  It's a temporary answer that is completely subject to change if Facebook likes what they see from these tests.
As we get into the reasons why Facebook would run these tests, and could ultimately implement this widely, it should become clear why people who manage pages should be concerned about this update.
Why is Facebook Doing This?
There are a few answers to this question.  The first, and most obvious, answer is money.  Advertising revenue is an incredible boon for Facebook.  In Q2 of 2017, Facebook reported $9.16 Billion (yes, with a "B") of revenue from ads.  This number represents a 45% increase year over year, and more importantly it represents 98% of their total revenue ($9.3 billion) in that time period.
We've covered this in great detail, but Facebook's goal as a company is to make money.  There have been lots of interesting articles about Facebook's place in the world and its responsibility as the main source of news for a huge portion of the population.  The fact remains that Facebook is a corporation driven by the bottom line, and forcing publishers to pay more to have their content seen is good for business.
A second, less cynical, answer to this question focuses on user experience.  The tests in question here are essentially talking about separating your personal feed (friends and family) from the pages you follow.  As an end user of Facebook, that doesn't sound so bad.
As Facebook's Head of News Feed says, "We always listen to our community about ways we might improve News Feed. People tell us they want an easier way to see posts from friends and family. We are testing having one dedicated space for people to keep up with their friends and family, and another separate space, called Explore, with posts from pages."
Way back when Facebook launched, it was an amazing hub for college students to interact with their friends in an exciting way online.  There's no denying that everything about the platform has changed since then, but getting back to a little bit of that experience doesn't sound like a negative to me.
Finally, there's just too much content on Facebook.  Splitting the feed into two is one way to segment the content in a logical way that could, in theory, allow users to more easily find what they're looking for.  This has come up in this conversation before, but there is no feasible way for Facebook to serve every person with every update from every page and person that they follow.  It's impossible.  This feed could make it more manageable for the end user.
The limited amount of space is true for ads as it is for posts.  Earlier this year Facebook launched ads in Messenger as a way to serve more ads without clogging up more of the news feed.  Two feeds give Facebook two distinct places to potentially serve ads.  And by removing all unpaid page content from the regular feed, there's a lot more room for advertising.
How Can You Fight Back?
The simply reality is that you're not going to stop using Facebook for marketing.  More than 2 billion people actively use the platform.  That includes a large subset of your audience, no matter who makes up your audience.  But there are a few ways to stay relevant.
First, you can produce content that's more engaging.  Facebook Live has performed exceptionally well in terms of organic reach since its launch.  Doing more with Live is a great opportunity to stretch the little remaining organic reach you have left.  You can do this in a variety of ways, like hosting a webinar on Facebook Live.
Additionally, you should be making sure that your content is optimized for the modern news feed.  Our tests show that about 90% of people watch videos with the sound turned off across the pages we manage.  We routinely produce our content for social with this in mind, like the video you see below.
Outside of your content strategy, which should always come first, there's the unfortunate truth: you have to pay to play on Facebook.  We no longer live in a world where the average brand can get by without paying for social ads.  You can start small in your social advertising efforts, but you do need to start somewhere.  And you need to do it sooner than later.
What Can You Do Today?
You can work on this right now.  Stop wasting opportunities to create content, work to make your content creation more efficient, dive headfirst into producing facebook lives, stay up to date with Facebook's constantly evolving platform, and develop a social advertising strategy.
Don't get left behind.  If you need help getting started with your video creation, event coverage, and content marketing strategy, drop us a line at 5 Tool Productions.  We love brainstorming  with smart people on how to solve difficult problems.  Can't wait to talk to you!