The Death of Vine and the Future of Online Video
Back in October, Twitter announced it was shuttering Vine, the 6-second looping video app responsible for some of the internet's greatest ADD masterpieces.  Twitter purchased Vine about four years ago for $30 million, and at first things were going great.  It was the shiny new toy in the world of online video, and casual users as well as marketers were getting on-board in droves.  Since then, the platform has remained a popular resource for specific types of content, but hasn't grown with marketers enough to be a money machine for Twitter.  So what went wrong for Vine?
Sometimes Doing the Right Thing Isn't Doing the Right Thing
Somehow, it feels like a quote from the clueless sergeant in the 2003 american film classic SWAT is applicable here.

Ironically, that clip would have worked great on Vine! But it actually does make sense in this context.  There's an argument to be made here that nothing went wrong for Vine.  It's a fun app that seamlessly allows quick, loopable sharing for lots of different types of videos.  The main pieces of content that it seems to me worked on Vine were homegrown comedy and sports oddities.  And Vine was awesome for both of these things.  Look no further than exhibits A and B below:
Vine became a boon for amateur comedians and regular people looking to post some creative, quick-edited video content online.  As mentioned above, it did hold some appeal for brands willing to flex their creative muscles.  And to this point, some big brands did see the value in Vine.  The NBA maintains a channel with over 4,700 unique posts and 1.8 million followers that's garnered just about 2.5 billion (yes, with a B) loops.
Other brands used Vine as a distribution channel for their online video as well.  Lowes had a channel with 37,000 followers that piled up 65 million plus loops.  But their cadence was never consistent, posting about bi-weekly.  Samsung has about 40 million loops on their channel.  But similar to Lowes, their posting wasn't consistent.  And that leads to what did go wrong.
The Bottom Line is the Bottom Line
Fun online videos with an army of screaming ducks and a drumming dog are awesome.  In fact, they are beyond awesome.  There is no doubt in my mind that in many ways Vine represents the fun-loving antidote to the poison that runs through the blood of social media via anonymous eggs spewing hate on Twitter, angry echo-chambers on Facebook, and a general unwillingness for lots of people to be decent to one another everywhere online.  Vine was a good thing for the internet.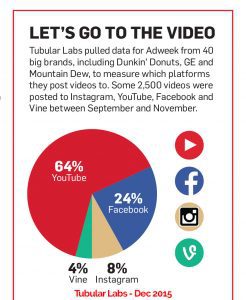 But being a fun, creative outlet doesn't drive revenue.  A robust advertising engine with opportunities for marketers to get in front of  a specific audience, and drive conversions and engagement does.  And at the end of the day, Vine was never able to jump aboard the paid media train, and it never developed targeting tools well enough for brands to maximize their use of the tool to reach specific audiences.  And over time, brands got away from Vine, and moved toward platforms that gave them these tools.
As far back as December 2015, AdWeek was reporting on a significant drop-off in the use of Vine by big brands.  Citing research from Tubular Labs, they show that just 4% of the online video from the brands they surveyed was being posted to Vine.  From Lauren Johnson in that same article: "One of the main reasons brands are turning away from Vine is because unlike its competitors, Vine doesn't have an advertising model, although brands often buy Twitter ads to promote their clips, noted Topher Burns, group director of distribution at Deep Focus."
If marketers pour resources into a tool that doesn't give them any tangible results they can run up the totem pole to the C-Suite, they're eventually going to cut bait with the tool.  Ultimately, this is one of the things that led to the demise of Vine.
Too Many Online Video Tools for the Common User
Four years ago, the tools for the average person to upload and share online video were much more limited than they are today.  Snapchat was just starting to gain significant traction around the time that Twitter purchased Vine.  Video wasn't available on Instagram until June of 2013.  Periscope and Facebook like were still light-years (in internet time) away.
But now, the market is flooded with creative outlets for the average person to make online video.  Snapchat provides an intimacy and connection with friends that has driven it to become a default messaging app for a generation, helping to push its daily user base to over 60 million.  Despite being purchased by Facebook, Instagram has remained pure enough as a photo sharing app, growing its user base to more than 500 million monthly as of this summer.  Facebook continues to prioritize video, and remains the biggest online platform ever, with 1.18 billion (again, yes, with a B) daily active users as of September 2016.
Each of these tools provides a benefit that Vine lacked.  For Snapchat, percecived privacy and a direct connection.  For Instagram, creativity through editing and filters.  For Facebook, and unparalleled reach.  All of this doesn't even bring up YouTube, boasting more than one billion users of its own.  Even with the support of Twitter, however much support that was, Vine simply couldn't keep up.
The Hype About Hype
Vine may be dead (or at least going out to pasture), but the people behind it have already announced a new app that might be able to compete with some of the elements that make the other networks so popular.   On November 2, two of the founders of Vine announced Hype, which in short can be described as streaming video with advanced production tools.  From the horse's mouth:
"Put simply, our goal with HYPE is to elevate storytelling on mobile by building the most expressive and flexible creative video tools, coupled with real time input from the audience. While developing HYPE, we were inspired by the evolution of TV and desktop broadcasting — these areas continue to grow in quality and expression, while mobile video has remained relatively simple and one-dimensional. We think there's a better experience to be had, one that uses the phone's capabilities to full effect and blends the creator's own media into their live broadcast."
Whether Hype will join the long list of apps that failed to compete with the big boys in online video, or if it will rise to their level is obviously yet to be seen.  But their concept is definitely an interesting one.  And they do have the backing of one of the initial investors in Snapchat to boot.
A good rule of thumb for marketers, as we've talked about time and time again, is to never become too enamoured with any one tool.  A diversified approach to online video is always going to be the most prudent approach.  Who knows – while you're busy pouring all your time into Snapchat, you could be missing out on the next Snapchat!