Once the darling of marketers and users alike, Snapchat continues to find itself in troubled waters. On Tuesday, Snapchat announced that Chief Strategy Officer Imran Khan would be leaving the company.
Executives come and go, but Khan joins a growing list of power players to say goodbye to Snap in the past year. As the New York Times notes, "He is the latest top executive to leave Snap at a turbulent time for the once high-flying social network, which is run by Evan Spiegel. The company's former head of engineering, Tim Sehn, left in December; its head of product, Tom Conrad, was replaced in March; and Snap brought in a new chief financial officer, Tim Stone, in May."
By all accounts, Khan's departure is a significant one. According to an article in Vanity Fair, Khan was critically important to Snapchat's business. One source told Vanity Fair, "You can't underestimate the importance of Imran to Snapchat over the last three and a half years. He really was integral to everything."
The Khan news is insult to injury. Last week, Snap's stock dropped below $10 for the first time since the company's IPO.
Snapchat's Users are Leaving the Platform
The underlying problem for Snap is the most important metric for a social media platform. Snapchat's users seem to be less than thrilled with the direction of the platform.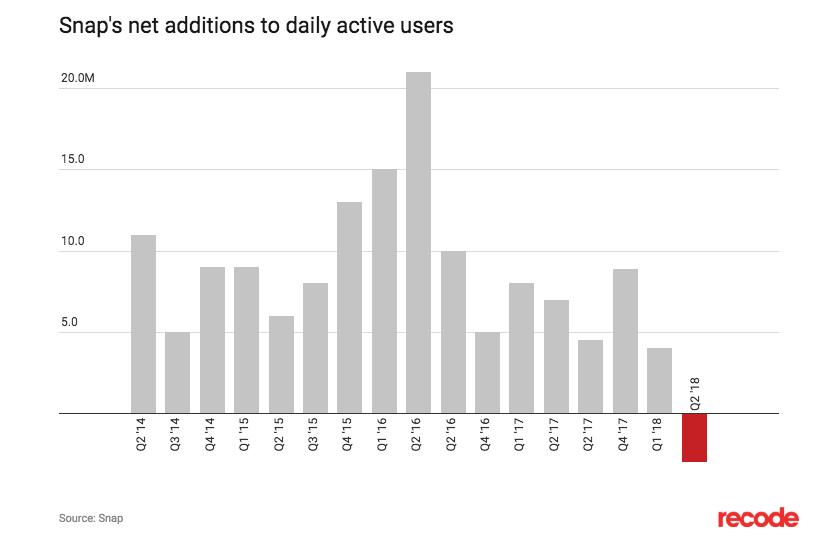 Snapchat's users decreased for the first time ever in Q2 of 2018. No, not a slowing of growth. An actual decrease in the number of daily active users.
Even more concerning is the trend in North America. From Recode: "Not only did Snap's total daily audience shrink, but so did its daily audience in its most valuable market, North America. That's where the advertising industry is developed and Snapchat users generate more than three times as much in revenue as they do in Europe. Snapchat's North American daily active users declined to 80 million from 81 million the prior quarter.
You Can't Topple The Zuck
So many of Snapchat's problems boil down to the competition. There was a time not too long ago when Snapchat looked to be the Facebook killer. But then Facebook acquired Instagram, copied Snapchat's biggest features, and essentially won the war before it really started.
Instagram stories alone now boasts more than twice as many daily users as Snapchat does overall. Add a disastrous app re-design to the mix, and you've got a recipe for serious trouble.
This doesn't necessarily mean that Snapchat is going away. They still have 188 million daily active users, after all. But it sure does look like they won't be the ones to supplant Facebook as king of the social media platforms.