Four Tips to Make Your Event Live on Forever
If you've ever planned an event, you know what a massive undertaking it can be.  From booking speakers, to a/v, to catering, to exhibitors, and beyond – the list of things to coordinate and pay for goes on and on.
Putting on an event is a massive investment of time and money, and it's for precisely that reason that you should do everything in your power to make it live on in perpetuity.  With that in mind, here are four ways you can help make your event live on long after the last attendee leaves.
Interview Thought Leaders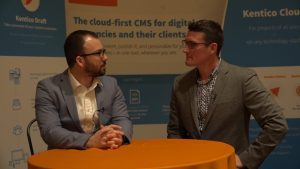 Often times, your event is going to be the best opportunity the have a mass of thought leaders in your field all in one place.  If you've marketed your event correctly, you'll have clients and potential clients in one room as speakers and attendees.  It's a one-of-a-kind opportunity to get face-to-face access to some of the heavy hitters in your industry, and it's one you should capitalize on.
Take the time to schedule video interviews with these thought leaders.  You'll only need about 15 minutes of their time, and it will provide you with content that will feed your content marketing engine for months following your event.  Featuring thought leaders is a win-win – it highlights their strong points, and helps establish you as an expert by association simply by having these folks as a part of your content.
Even better, it's a great way to remind your clients and prospects how much you value their opinion.  What better way to show you care about what they have to say then by featuring them as part of your own content?
Archive Your Sessions
Hopefully, you're considering the value of live-streaming some, if not all of the sessions in your conference to allow people to enjoy your event remotely.  Whether you're already planning for that or not, providing video archives of your speakers is a must.
Consider this fact – the main draw of your event, the thing that convinced people to pay to attend it, is often the speakers that you've chosen to feature up on stage.  By capturing these presentations and making them available post-event, you're building an archive of this content that can be used to generate leads, engage your audience, and fill your social channels well beyond your event.
Create an Event Highlight Reel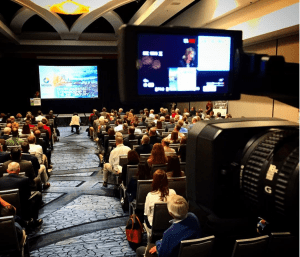 While full sessions and interviews are great, there's also a tremendous amount of value in a highly-produced, quick-hit clip showing off the best moments from your event.  Think of it as the Sportscenter wrap-up of the big game.  Sure, all of the content is great, but a tidy little package with the best moments has value as well.
Just like your interviews, this can be a great way to feature some of your high-value clients in a way that showcases their talents in a positive light.  Beyond that, your highlight reel this year can become your event promotion next year.
Don't miss an opportunity to highlight the sights and sounds of your event, because that's only going to help when you're working to drive attendance this time next year.  Whether it's via social media or email, having the video to show how exciting an event was in the past is the best way to get people on-board for your events in the future.
Repurpose, Repurpose, Repurpose
Think of the content you develop from your event as the rich media base of your marketing pyramid.  An engaging video of a speaker is great as a stand-alone clip, but it's even better if it can be stretched out and used across all of your channels.  Let's consider the thought-leader interview, and how that can be repurposed:
Video uploaded directly to your company's Facebook page
Blog posts featuring key takeaways from the interview
Short video clips featuring high-value soundbites for Twitter
Screengrabs of the interview with overlayed block quotes for Instagram
Takeaways for a section of your email newsletter
One piece of content isn't just one piece of content – it's a way to feed your marketing engine across channels for as long as you're willing to get creative with it.
If you have an event coming up, and you want to make sure that you get the most out of it, be sure to check out our Event Content Checklist.  It's a top-to-bottom outline of everything that you should be doing before, during, and after your event to maximize the impact.