On June 23rd, 2022, the Arc of Greater Brockton, Massachusetts was the host to a Dedication Ceremony at their space in Brockton, Massachusetts. They were announcing a groundbreaking of property right next to their original building. Also, they honored former executive director Jay Lynch, as he moves on from his position at the Brockton Arc, but is remembered for his decades of life-changing work. Our team at 5Tool Productions was on site for event coverage.
At 5Tool Productions, we specialize in creating smarter, and for this project, we were creating an event highlight reel and showcasing everything that was going on. This included speeches from Dean Rizzo, Jay Lynch, Mayor of Brockton Robert Sullivan, Massachusetts State Senator Michael G. Brady, and others.
How did we handle this event coverage?
Our team at 5Tool used a two camera set up to cover the speeches. One camera displayed a wide shot angle of the podium and crowd, while our second camera showed a close up angle on the speaker. One satisfying moment was watching a video our team had created from a past shoot with the Arc. This video created by Connor played about halfway between the speeches, and it received an amazing applause and ovation. Before and after the speeches, we captured various b-roll of everything going on. This included the groundbreaking for the new property, and participants and guests enjoying time with one another.
Also, we took a few hundred still pictures of everything that was going on, and we interviewed three speakers from the program in attendance for this event. This was our last stop before packing up, to understand more about the significance of the Arc's developments and achievements.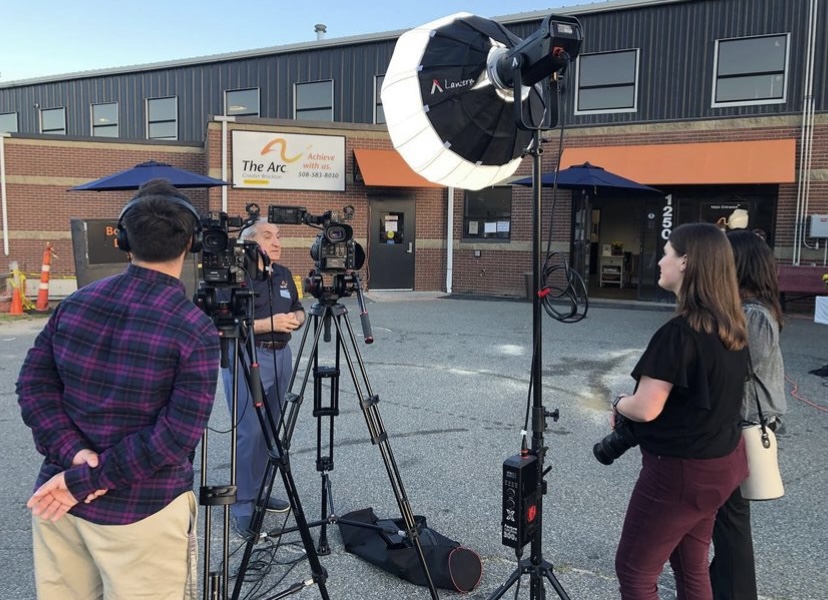 Making your Event Live On
To go along with the highlight reel video for this event, our team was tasked with actually creating four shorter, focused videos on some of the main themes that the Arc encompasses. These one-minute videos are created in post-production using footage and still images from the original event. Also, we incorporate past shoots that our team was a part of. This is a great example of how one shoot with 5Tool Productions can allow for multiple pieces of content. Evidently, this gives any particular event the ability to live on, and continue to make an impact.
This was personally one of my first experiences with live event coverage at 5Tool, and creating a highlight video for a client. I was able to learn what our pre-production, production, and post-production process looks like. Altogether, I learned how to successfully capture an event, the 5Tool way.
---