---
I was reading up on a recent sale of the formerly ESPN-owned X Games to a private-equity firm to help expand the digital live streaming of the cherished extreme sports event. One section particularly stuck out to me in the article, "The company's goal is to reimagine the X Games with unique fan experiences, an expanded calendar, and increased access to the world's premier athletes."
Experiences, longer engagements, and increased access are the special sauce when it comes to what makes a dynamic live stream. One great example of a live stream that focused on the experience side was our client, EverTrue's annual event RAISE. Instead of following the norm when it comes to a virtual event, i.e. a subject matter expert on a zoom call with slides being screen shared (or worse, the hour-long no-slides presentation), EverTrue went out of their way to make a truly memorable experience. Pre-produced content in a variety of lengths accompanied a tight studio show that kept the audience engaged without hitting them over the head with a sales pitch. The result saw an engaged audience that was willing to visit virtual booths and participate in a variety of additional breakout sessions.
Another section of the article on the X Games that I found very insightful was this quote,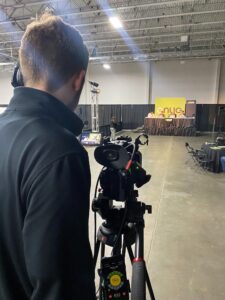 Think of the Experience
In my experience, I have seen brands create a live stream of their event but forget the second part of the quote, content like this. What are you doing to provide an experience tailored toward the digital audience? Take for instance the break between speakers that can occur during a conference. It may last for just a minute or two as the stage manager works to load up the next speaker's slides but that time for the digital audience showcases if the brand cares about them or not. Often the live stream of a conference resorts to an image that says we'll be back shortly. It's completely understandable why the conference might do this but the audience still feels like a second thought.
Instead, a great example I have recently seen using a small side stage between sessions on the main stage. A digital MC did a quick wrap-up of the main stage's presentation and provided updates on what was to come. The digital audience had a reason to stay engaged and got an experience that tailor-made for them
Something to think about when it comes to your next hybrid or virtual event. Want to brainstorm with us? Reach out anytime!!!