4 Tools Every Content Marketer Should Be Using
The demands on the average content marketer are constant.  In terms of both quantity and quality, the expectation to produce content across seemingly myriad social platforms can be extremely intimidating.  Luckily, there are some great tools that can help lighten the load a bit.
Adobe Spark
The formats you need to create for as a content marketer are constantly shifting.  With these changes come different restrictions on dimensions, and different demands for updated style.  Lucky for you, Adobe Spark can help with this (as well as with a bunch of other things).
At its core, Spark is designed to help you create social media posts, web pages, and simple videos that reflect your brand identity.  Spark has a ton of templates built in to help you get started in creating imagery for everything from Twitter posts, to Facebook Ads, to Instagram stories, and much more.
Creating posts through Spark can save you time on the simple things, and free you up to spend more energy thinking about the actual meat of your content creation.  The sizes are pre-loaded and ready to go, meaning you can avoid firing up Photoshop for simpler graphic jobs.
Spark Pages are also a great way to showcase content in a responsive format without needing coding knowledge.  This is a great way to look like a pro developer, even if you're not one.  Spark pages do a great job highlighting images specifically, and always have an eye on the mobile user, keeping your content optimized no matter how your audience is accessing it.
There's a free version of Spark to get started, and a paid version that allows you to remove watermarks and upload your brand guidelines for quicker content creation.  Adobe Creative Cloud members get automatic access to the premium version.
IFTTT
It looks like a nonsense string of letters, but it means "If This, Then That."  IFTTT is a tool that will probably blow your mind a little bit the first time you use it.  The mission is to "help you do more with all of your apps and devices."  Through the use of Applets, IFTTT helps one action you take on your phone trigger another automatically.  Lots of these applets can be extremely helpful for saving time and staying organized.
One of my personal favorite applets is one that is fairly representative of the service overall. Every time you post to Instagram, this applet automatically sends out a tweet with a native photo (not just a link to one) to your linked account.
There are tons of different applets for you to explore – ones that will send texts to your significant other when you connect to your work's WiFi, ones that will automatically send you weather forecasts, ones that let you text a keyword to your phone that will turn the volume all the way up if you can't find it.  There are tons of useful applets to help the average content marketer streamline his or her process.
If you're like me, you'll sign up for way too many applets to start, and need to scale back.  Automation is great to a certain point; when you lose track of what you've automated, you know you're in too deep.
Trello
There are a lot of productivity and to-do list tracking apps available.  The power of Trello comes in its simplicity.  It's price point (free) doesn't hurt either.
Trello uses a system of boards, lists, and cards to organize your work.  It can be just for you, or for a whole team.  It starts simple, but can actually get pretty robust in terms of functionality.  It syncs across devices and works great on mobile, which helps you and your team stay organized on the fly.  This is huge for the average content marketer who is always running around and working on a million different projects.
I often find that I get bogged down in the bells and whistles of productivity apps.  The result is that I become less productive when I use them.  This isn't the case with Trello.  If you've been burned by productivity apps before, this just may be the solution for you.
Google Keyword Planner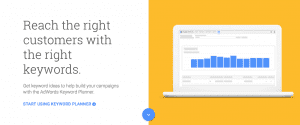 As a content marketer, one of your key responsibilities is probably blogging.  This means constantly finding new ways to entice to your target audience to read your content.  Having the right keywords is a critical part of getting your audience to your site.
Keyword planner lets you input words and search terms relevant to your products and services, and spits out ideas for related keywords.  You can see the volume of searches associated with different keywords, and make a plan of attack for how you are going to leverage SEO to get people to your site.
You can also augment your planning with tools like KeywordTool.io and Soovle.  These tools can help you come up with more long-tail keywords, and get inspired by seeing content suggestions from search terms as populated from a collection of different search engines.
---
It's always going to be an uphill battle for the content marketer.  You need to be an expert writer, videographer, strategist, and analyst all at once.  But with the right tools in your belt, at least you'll have a fighting chance.  If you need help creating content to fill your marketing machine, drop us a line – we'd love to talk!